March 15th, 2012
Today, several homeowners are trying to save money when renovating their home. They would rather perform the work themselves, instead of hiring a contractor or professional. You don't have to be an expert to learn how to build a deck, but having some basic knowledge of tools and lumber are a plus.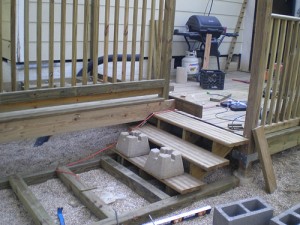 When looking for deck plans, be sure to find one that goes with the space you have in mind. There are several free resources available on the internet to help you with your deck plans. You can also choose to hire a professional deck designer to ensure the deck you build is the proper fit and shape for the space.
Deck construction typically begins with excavating the chosen area and setting the posts. Once the concrete has fully cured, the deck is framed and in some cases support beams use joist hangers and extremely large lag bolts to connect to the existing home's foundation.
The decking (horizontal boards you stand on with your feet) is installed, some prefer nails for their finished look, some will use screws for the extra strength. If you use nails, however, be careful if you have a soft wood like cedar because if you miss the nail you will leave hammer marks. The last step of deck construction is the railing, for safety reasons. Some will apply stain or even paint to create the finished product, and protect the lumber to ensure the deck will last for years to come.