There may be several reasons for you to build a deck, the foremost being that you'll be able to expand your living space and create a place for you and your family to enjoy during fine weather conditions. However, at the same time, you should also consider carefully all the reasons for desiring to build a deck i.e. what functions it will serve for you and most importantly its purpose. Doing this will allow you to properly plan and design a deck that is not only inviting but also functional!
Even for all the do-it-yourself guys, constructing a deck is not very easy which they can tackle quite comfortably. For the rest of you, there are a number of deck building contractors to do the job to perfection.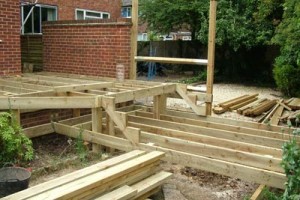 The very first step in planning a deck is to work out where to build it. For this you need to consider the size, the shape, the location and the neighboring landscape of the deck. Some of these features may be more important to you than the others, but you should always keep all of them in your mind when you plan, design and build a deck. Some additional factors to be considered are:
1. Access – Will you be building the deck in a convenient location? Is there proper access to and from the house to the deck? Is there an existing wall or a door that needs to be removed?
2. Direction – Which direction does your residence face? This is important because if you put your deck facing the sun, you might need to think how you will get shade from the sun's heat, otherwise your deck may simply be usable. In this case a good deck builder will suggest you to incorporate lattice barriers into your design. These offer shade from the sun and also give protection from cool winds.
3. Privacy – This is very important. You must make sure that your deck design offers you privacy from your neighbors.
4. Design – Your deck should look like an extension to your house. If you do not have the skills necessary for designing a deck that blends well with your house, you should think about hiring a professional deck builder. A deck building expert will assist you with planning the design of a deck, determining which materials need to be used and a rough cost estimate of your project.
5. Material – The most common deck building material is wood, like cedar and redwood, which can be either stained or sealed. You can also opt for recycled plastic materials in composite decks.
Once all of the above considerations are thought out, it is time call a deck builder and to begin your new deck project. Have fun on your new deck!